FALL 2019 MAKEUP TRENDS
MAKEUP TRENDS FOR REAL WOMEN- FALL 2019
RED LIPSTICK
Velvet red lipstick is a super bold makeup addition for Fall & Winter 2019 and when paired with a very natural looking makeup routine, most every woman can pull it off. Just make sure that you purchase a red lipstick that's compatible with your skin tone and its undertones.
You can find red lipstick in a shade that's perfect for you in neutral, cool or warm tones. Just be sure to try out your red lipstick in natural lighting before wearing. Avoid deep red lipstick shades if you have thin lips because it will make your lips look smaller.
Always be precise with your red lipstick application and avoid lip liners that aren't an exact color match for your red lipstick. Prime your lips with foundation and light powder to extend the life of your lipstick application and try to keep the lipstick off your teeth.
Eye makeup should be down-played and applied for a natural look since red lipstick is such a bold makeup choice. Pairing it with heavy eye makeup usually comes across as "too much" for everyday wear.
LIP GLOSS
Glossy lips are all over the catwalk for Fall & Winter 2019 in lots of nude and real skin shades as well as light and bright pinks, violets and purple lip gloss shades.
Pair your dewy lip gloss shades with heavy, dramatic eye makeup looks and soften your matte and cream lipsticks by applying your lip gloss sparingly and lightly blotting any excess gloss.
Use a natural lip gloss with lip plumping properties and anti-aging ingredients like Hyaluronic Acid and compounds that reduce the appearance of fine vertical lip lines and wrinkles and give you a very smooth lip texture. Good lip gloss formulas can add a hydrating and moisturizing effect to some very drying matte lipsticks.


SMOKEY EYES
The smokey eye is nothing new but creating a smokey eye with new cream eye shadow or eye gloss formulas creates a more dewy, radiant and smoldering look. Create an updated smokey eye with bold pink and mauve color eye shadows and pair with a soft nude lip gloss for a sexy, natural look.
Avoid harsh lines by using cream eye shadows instead of a pencil or felt tip eyeliner. Apply upper and lower eyeliner with a small eyeliner brush and blend for more natural and soft eye definition.
RADIANCE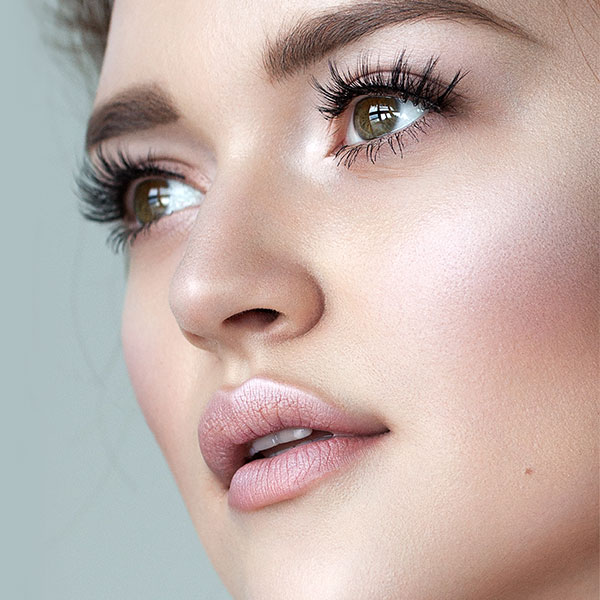 A touch of white, silver or gold eye shadow in the corner of your eyes gives a your face beautiful and dramatic wake up call. Add a cream or powder radiance shade in a silver-pink shade to the tops of your cheekbones, and cupid's bow.
Apply a nude or pale pink lipstick with a very neutral lip liner and dab a little radiance on the upper and lower lip to complete the look.


SPIKE EYELASHES
You can purchase false "spike lashes" or use a good mascara to achieve these fluttering lashes. Apply several coats of mascara to all lashes and then play up a few top lashes with more mascara allowing them to clump a little across the lids for a super-spiked look.
The application must be very precise so we recommend coating your lashes prior to all other makeup application just in case you need to do a lot of touch-ups. Protect your natural lashes by using a natural oil, such as Olive Oil to gently and effectively remove your eye makeup.